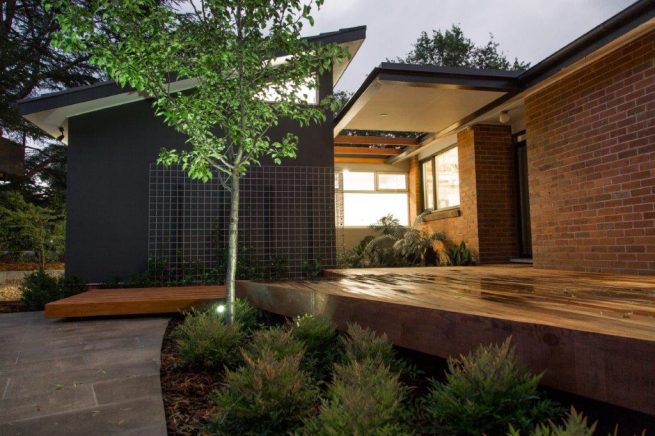 2016 ACT Architecture Awards – BCA Certifiers Mervyn Willoughby Thomas Renovation Award
Sunny Room Additions
Skillion Roof
Set in an established suburb, this is a minor extension that gains the benefit from this street corner location.
Cleverly etching a position into the corner, the addition retains the low and unassuming scale of the existing ex-govie
streetscape with two new skillion front forms.
By clearly redefining the entry, transition into and through appears seamless, yet ordered with the 'foyer' space
sensitively altered but maintained to subtly separate private and living spaces as well as inside as out.
Internally, a thoughtful resolution is made of scaled elements of overhead light shelves and angulated corners
reaching out for northern sunlight. This demonstrates how considered design strategies can achieve a spatial
generosity that exceeds its modest budget.
Here, at every internal turn, the garden beckons and is strongly integrated into the experience of where one is within
the house, with private views that offer colour, sanctuary and light.
No wonder the children have found their new 'sunny room'!