What Deck Alert is about
Deck Mate article by Allan Spira Architect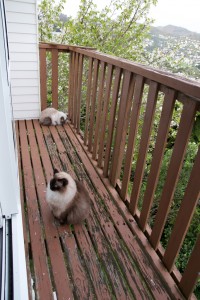 Deck Alert is about alerting home owners to the potential safety risks associated with old Oregon decks.
Oregon (broad grained softwood, pinkish colour) very susceptible to moisture penetration and subsequent rot (ironically termed "dry rot" in the trade.
Until fairly recently Oregon has been used for decks and pergolas but even when painted they can significantly deteriorate in less than 10 years. Oregon should not be used in external structures.
Tragically, there have been incidences of elevated decks collapsing, causing serious injuries and even deaths.
Potential for legal action against homeowners!
Home owners should regularly inspect their decks, particularly around junctions of timbers where end grain has been exposed such as where beams meet posts, timbers are fixed to walls, handrails and balustrades.
Don't be deceived by appearances. Paintwork can look fine but the timber beneath may have perished. Feel for spongy, deformed surfaces and test by poking with a screwdriver.
Our History
Allan Spira is an architect with over 25 years' experience in residential design, documentation and project management. He was alerted to his own potential deck collapse, just prior to his daughters 18th birthday party when he fortunately noted and replaced rotten Oregon posts which subsequently had to support about 40 bouncing teenagers!
Ted Moxon is a builder with too many years of experience and knowledge as a cottage builder to retire and is now "back on deck" with plenty of energy and interest in smaller building projects.
Benefits to consumer
We do not just rebuild or repair decks but also review the design and detailing of the deck. This may be an opportunity to improve utility of the deck by consideration of: improved access from house living spaces to the deck, option to roof and/or inspect screen the deck, solar access and wind protection, provision of al fresco dining, BBQ facilities, etc.
DeckMates can inspect, offer options and costs for residents to consider, then construct in durable steel, hardwood and treated timber and arrange all approvals.