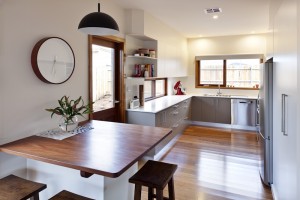 Despite advice to the contrary, the selected block for this yet to be designed sustainable home, was orientated with north to the street.
As a consequence of the block's orientation, the house was set well back on the block, leaving sufficient space for a private north facing deck and courtyard.
The other key generator for the design was budget; less than $300,000 inclusive of appliances, carpets and window treatments.
Despite the tight budget, we were able to build a 3 bedroom, high energy rated home with high ceilings and double glazed windows.
Other internal design features include timber floors, internal acoustic insulation, a high end kitchen with stone and timber bench tops and concealed LED pelmet lighting.
A contemporary architectural appearance is attained by use of bagged brickwork, higher than standard timber framed windows, corrugated iron cladding to the underside of simple half-trussed skillion roof forms. The high house roof extends over the garage roof to form a deep covered entry porch, providing covered access from the garage to the front door.
The grey tomes are warmed by the use of timber in the windows, front door, slatted timber screens and gates and garage door. The emerging landscaping will complete the envisaged composition.
Plan