This 50 year old privately built full brick house was in desperate need of a facelift and a bit more elbow room.
The original dwelling presented a couple of conspicuous opportunities for the makeover; a poorly utilised terrace area overlooked by windows from the wet areas and an awkwardly located column in the living area. Furthermore the kitchen was somewhat isolated from the living spaces and located on the hottest corner of the residence.
Part of the old terrace area was colonised by the relocated and much more generous kitchen which now opens to the living area and has access to the new deck which is cranked to provide additional access from the refurbished master bedroom. The other part of the old terrace is dedicated to the new ensuite.
The laundry functions are neatly incorporated behind bifolding doors that are integrated with the kitchen cabinetry.
In a bold move the client agreed to have the existing natural timber shutters dismantled and re-painted to conform to the new aesthetic which emphasised the spotted gum flooring. Timber faced doors and joinery were likewise transformed.
This small but effective refurbishment is a good illustration of adaptive re-use of existing building stock with commensurate improvements in energy efficiency through the use of double glazing, insulation, double flooring, draught proofing and installation of a large water tank.
Before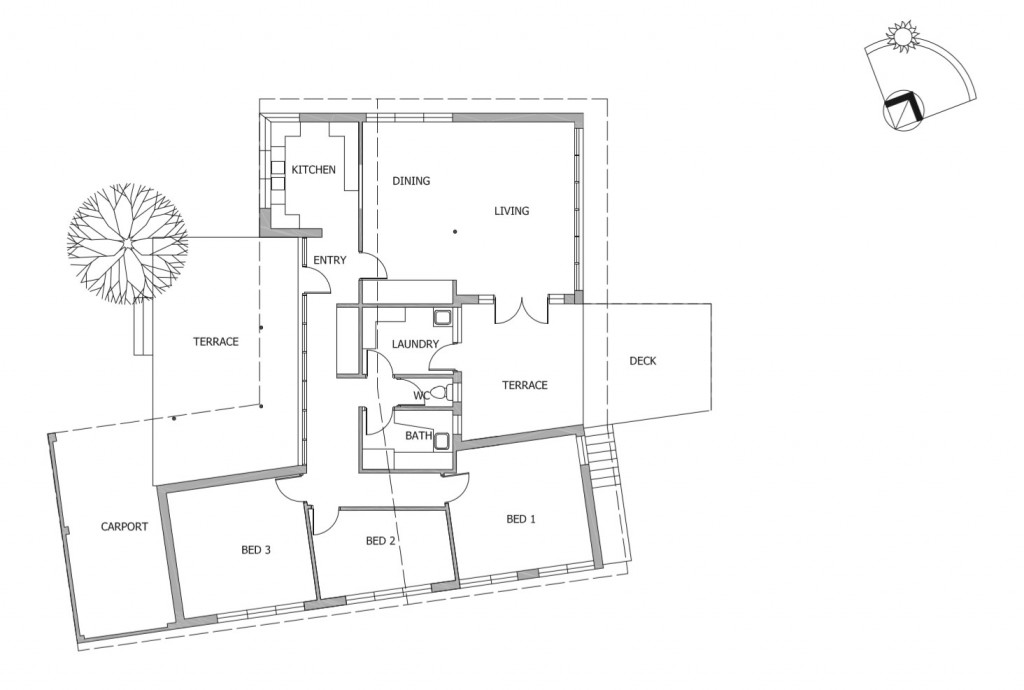 After