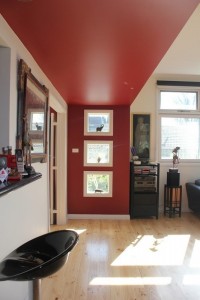 The brief called for a more space and more privacy for a growing family whilst retaining the existing feel of the 1960's privately built house and without increasing the existing footprint! The family had to be accommodated during construction and the broad established trees had to be preserved in the design.
The addition of two stacked spaces in approximately the same location as the rear terrace, requiring approximately 1.5 metres of excavation, was designed to maximise space, capitalise on good orientation and minimise energy losses. The existence of a stubborn rock shelf was not envisaged at the time! It took several weeks and thousands of dollars to remove for the small excavator that was able to get through the limited site access.
The internal access stairs wind around a lower level mezzanine level bathroom which borrows light from the stairwell. The raised bathroom level was intended to allow sewer drainage to gravity feed to the mains, however a dual pit system (sewer and stormwater) with submersible pumps was inevitably required to be installed.
The refurbished bathroom features an Indonesian ceremonial doorway.
The relocated laundry, extended garage, kitchen servery and generous deck, which makes a feature of the spreading Elm tree, complete the makeover and result in a very liveable family home.